Deck Library – "Montoya's B/R Vampires": A Victory for Casual Play
This may seem counterintuitive, even paradoxical, but I'm going to take a moment on this blog to praise the decklist of the winning player at this weekend's SCG Open Series in Denver. This isn't unusual at all for a Magic blog, but we're more of a kitchen-table crowd here and we like our Magic like we like our Fridays – casual.
Because this site is geared toward casual players, we've got a lot to say to and about those of you who don't spend hundreds of dollars on a single deck. Obviously, there are a lot of casual players who are willing to wheel and deal (and spend big) for their playset of Jace, The Mind Sculptor, but if you've played in a competitive setting recently you're probably more than sick of Jace, of Stoneforge Mystic, of Lotus Cobra, and the rest of the standard fare out there.
To fully "suit up" with all the best mythic rares can cost hundreds of dollars, which isn't exactly an option for a lot of us, that's why I want to highlight Bradon Montoya's deck from this weekend's competition.
B/R Vampires
Creatures:
Manic Vandal

Manic Vandal X3
Pulse Tracker

Pulse Tracker X4
Kalastria Highborn

Kalastria Highborn X4
Bloodghast

Bloodghast X4
Gatekeeper of Malakir

Gatekeeper of Malakir X4
Vampire Lacerator

Vampire Lacerator X4
Viscera Seer

Viscera Seer X3

Instants:
Lightning Bolt

Lightning Bolt X4
Dismember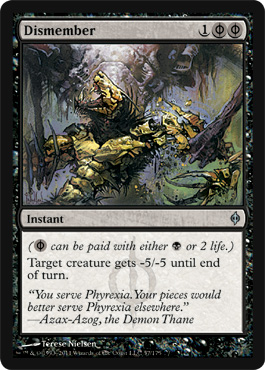 DismemberX3
Go for the Throat

Go for the Throat X4
Land:
Swamp

Swamp X6
Marsh Flats

Marsh Flats X1
Dragonskull Summit

Dragonskull Summit X4
Verdant Catacombs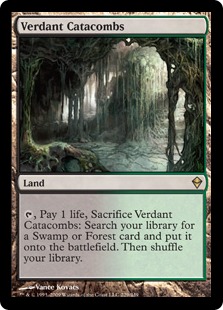 Verdant Catacombs X4

Lavaclaw Reaches

Lavaclaw Reaches X4
Blackcleave Cliffs

Blackcleave Cliffs X4
Sideboard:
Skinrender

SkinrenderX2
Dark Tutelage

Dark Tutelage X3
Crush

Crush X2
Doom Blade

Doom Blade X1
Arc Trail

Arc Trail X4
Mark of Mutiny

Mark of Mutiny X3
Why I like it:
It's got great flavor: One of my favorite aspects of deck building is putting together a deck with a cohesive flavor. This deck is not only tribal, centering on vampires, but the splash of Red is consistent with the aggressive nature of the Black core.
It's cheap: The most expensive aspect of this deck is the lands, and even they're not bad. There are no mythic rares here, and much of this deck's core consists of commons and uncommons. Most players, even if they're reasonably new to the game would have little trouble doing some small-time trading with friends and assembling this deck, though perhaps with some modification to account for a limited supply of the rare lands.
It beat Caw-Blade: Most people have had it up to Squardron Hawk cruising-height with Caw-Blade. This deck does a great job answering Caw-Blade with minimal artifact and creature hate without going way out of its way to be the anti-Caw. Any deck right now that is not Planeswalker-Pals w/ Titan Support or Caw-Blade has my vote, and this deck has done that exceptionally well.
It's creative: Okay, so maybe liking vampires isn't the most cultural innovative thing a person can do right now, but at least it's not the by-the-book "Competitive Magic" deck. It resists the temptation of Stoneforge, Planeswalkers, Tempered Steel, the titans, and even Infect. Not even a Phyrexian mana symbol in sight.
So, kudos to you, Brandon, from The Casual Planeswalker. Congrats on your win this weekend and thank you for doing your part to shake up competitive play in Standard just a little bit.